Unique properties
DISCOVER OUR FIBERS
We pay special attention to the raw materials we choose for the manufacture of our products, as these choices have a direct impact on the quality of rest and, of course, on the environment.
We rely on natural origin fibers such as TENCEL™ as well as SMARTCEL that help maintain the environmental balance by integrating into the cycle of nature.
These fibers are obtained from renewable wood material and are certified BIOBASED by the USDA. They are manufactured using environmentally friendly production and they are certified compostable and biodegradable, and thus can be completely returned to nature. For more information on the sustainability of these fibers, visit our sustainability page.
The incredible advantages of TENCEL™ fibers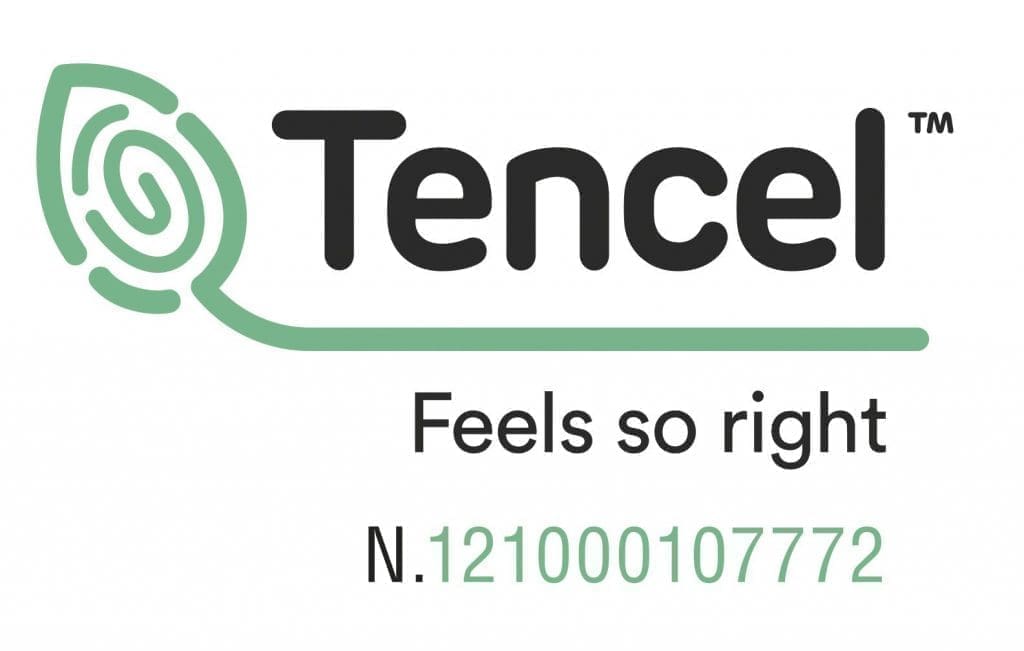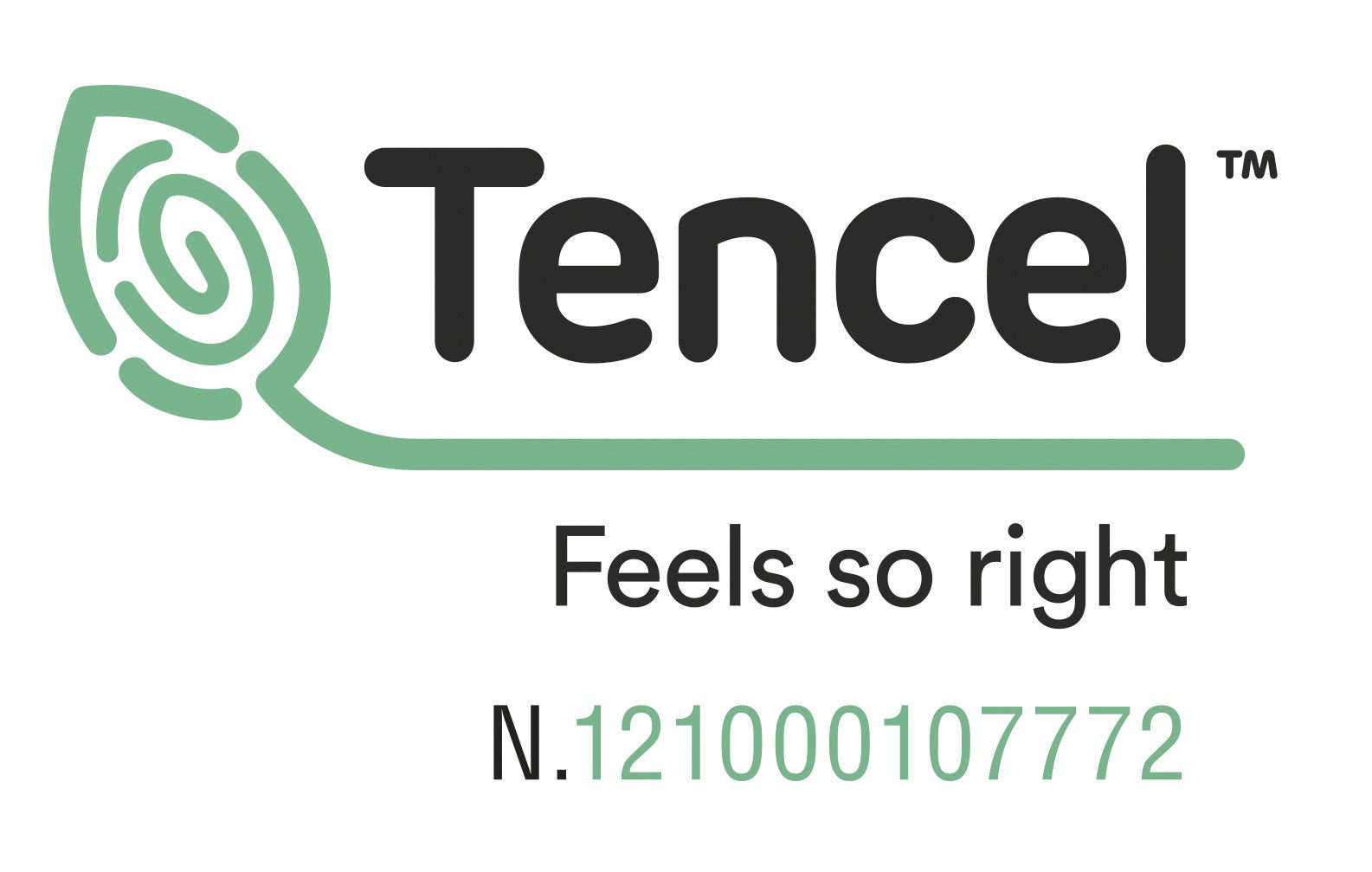 You are probably used to cotton, wool, silk, polyester…
Now you can add TENCEL™ fibers to the list, which surpasses all of the above in natural comfort, softness to the skin and thermal regulation, and which we use in the manufacture of most of our BSensible® products. TENCEL™ fiber is made from sustainably sourced wood, which is transformed into wood pulp and ultimately into cellulosic fibers. This is an environmentally responsible process, because the water is fully recycled and reuses the solvent with a recovery rate of over 99% Therefore, it is better for you and for the planet.
This system received the Technology Award for Sustainable Development at the European Business Awards for the Environment.
Thanks to its extraordinary properties and characteristics, many renowned fashion designers use this fiber for their garments.
Gentle on skin
When viewed under an electron microscope, TENCEL™ Lyocell fibers have a smooth natural cellulose fiber surface that provides a pleasant feel to fabrics and ensures long-lasting comfort even after many washes.

Excellent moisture management, essential for a good night's sleep
TENCEL™ fibers offer you a healthy and natural sleeping environment. The structure of TENCEL™ Lyocell fibers regulate the absorption and release of moisture, collaborating with the body's natural temperature regulation system and allowing you to sleep comfortably even in humid conditions. In addition, the reduction of moisture creates an unfavorable environment for bacterial growth, increasing the hygienic properties of the fabric.

The moisture absorption capacity of TENCEL™ fibers is the highest on the market, with a much more homogenous distribution. In addition, its dissipation and drying capacity is far superior to that of other fabrics.
SMARTCEL
SMARTCEL is an innovative fiber based on natural cellulose (Lyocell) to which Zinc Oxide is permanently incorporated through a patented and sustainable manufacturing process.
The incorporation of Zinc Oxide during the manufacture of the fiber is very important for the properties of the fabric, since, unlike most textile finishing treatments, it does not disappear as the product is washed.
Bedding Industrial Begudà SL has the worldwide exclusivity of the SMARTCEL fiber.
Why is there Zinc Oxide in our products? Is it good or bad?
Zinc is an essential mineral for life. It is an antioxidant that protects skin cells, is essential for the growth of hair and nails, is essential for muscle development, the cognitive and nervous system, and strengthens the immune system.
It is present in many natural foods, in products intended to improve the health of adults and babies and also in cosmetics, soaps, shampoos…
The Zinc Oxide incorporated in BSensible® products provides important benefits: it is ideal for people with sensitive skin or skin conditions (eczema, neurodermatitis…), has antibacterial properties, reduces odors and much more.
And all these properties have been tested and certified by the most prestigious laboratories.
BSensible® products have been the first to receive the "ALL NIGHT FRESH" certification by the prestigious Hohenstein Institute. This certification proves that BSensible® products last longer without bacteria and provide long-lasting freshness and comfort.

How is it possible to have all this comfort and sustainability and, at the same time, protect my bed?
By means of a waterproof, breathable, highly elastic and unnoticeable membrane that acts as a second skin thanks to the Dermofresh® Technology.
This membrane is a solid structure that acts as a barrier to water and air, preventing the passage of particles, but at the same time, the hydrophilic components of the membrane absorb water vapor molecules (from perspiration) and transport them from one side of the membrane to the other, through a diffusion process.
Humidity and temperature act as the engine of this process, as they are higher than the surface of the product in contact with the user, so the water vapor will migrate outwards, preventing moisture retention and providing a feeling of comfort.
It seems a complex process, but its functioning is the same as that of our skin: it does not allow liquids to pass through, but at the same time it transpires (1 liter of water per square meter per day).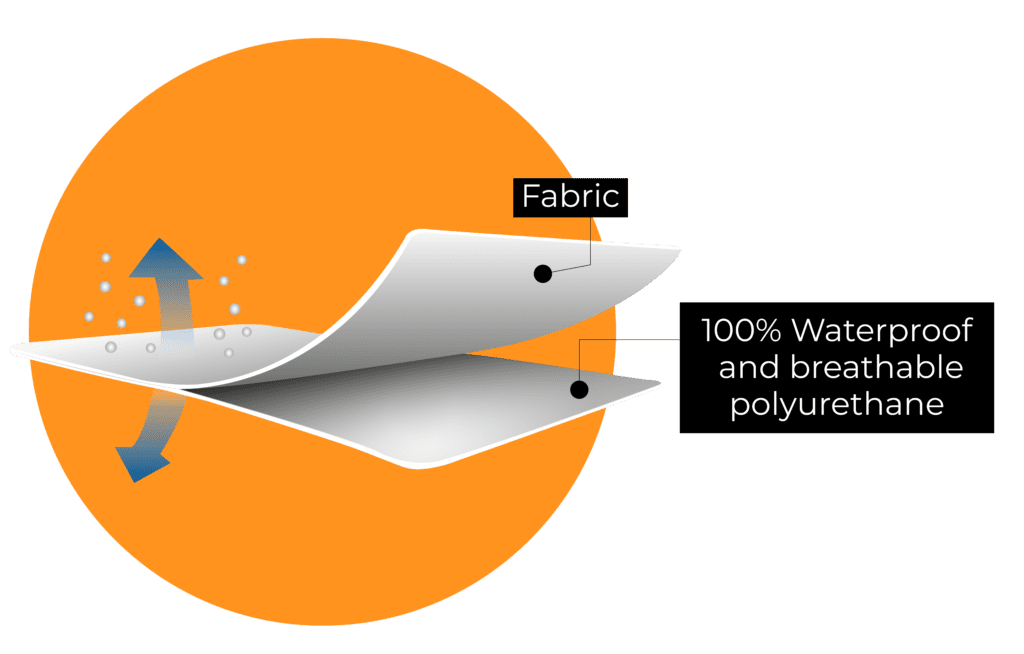 How do we measure waterproofing?
The product withstands more than 500 cm of water column. This means that, if we put a column of water on the product, until the water does not exceed a height of 5 m, the water will not pass through the product.
But isn't polyurethane a plastic? And is it sustainable?
We use polyurethane (PU) membrane to waterproof our bed sheets. Currently, PU is the safest, best performing and most harmless material that can be used to waterproof our products.
Although PU is a thermoplastic with a dependence on fossil fuels, it is also inherently more sustainable than most other plastics. It also does not contain chemicals that interfere with endocrine and hormonal systems, nor does it contribute to pH change in soil or water.
But what about all this plastic waster pollution? Although more than 95% of the waste found in the oceans is thermoplastics, PU accounts for less than 2% of this waste, most of which is disposable plastics.
Our products are designed to be durable, and are very unlikely to end up in the environment, but we are constantly working to find new materials so that the moment we discover a better option, we will be the first to use it.
As with the fibers, the membranes we use are of high quality, produced in Europe using environmentally friendly production processes and certified by OEKO-TEX®.