NATURZINC duvet
Say hello to pleasant nights with the blend of sustainable TENCEL™ fiber, the one that cares the most for your skin, present in both the filling and the cover.
Available in different weights for different degrees of warmth, it is lightweight, extremely breathable, regulates temperature naturally and absorbs moisture, keeping your body at a constant temperature.
For a decorative touch to your bedroom, cover the duvet with the NATURZINC duvet cover.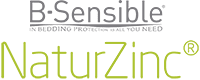 Softness and warmth in winter and summer

Breathable
To sleep at the ideal temperature all year round

Soft and lightweight
Designed with lightweight materials, it gently wraps around your body providing unique comfort

Natural

Easy care
Machine washable at 60 °C and tumble dry on a low temperature.

Sustainable
Produced with social responsibility, total traceability and environmental sustainability

We are currently the only group in Europe with a fully vertical manufacturing process. It starts in our spinning department and continues in the dyeing, lamination and manufacturing of the different product ranges.
Related products
This is a block of text. Double-click this text to edit it.