Dressing your bed: The ultimate guide to comfort, health, and style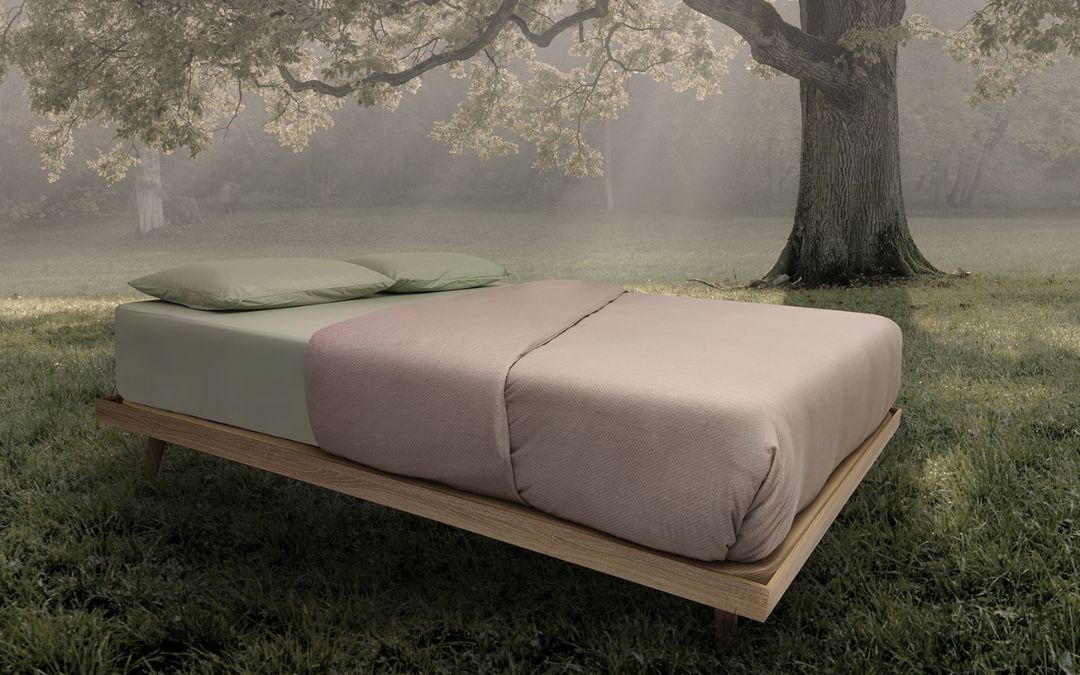 Your bed is more than just a place to rest your head at night; it's the centerpiece of your bedroom, a sanctuary for relaxation, and a reflection of your style. How you dress your bed can have a significant impact on your overall comfort, health, and the aesthetics of your bedroom. In this comprehensive guide, we will explore the essential elements of bed dressing, ensuring that your bed becomes a cozy, healthy, and stylish haven for a restful night's sleep.
The Foundation: Protect Your Quality Mattress
Before diving into the world of decorative pillows and luxurious throws, it's crucial to start with the basics. The foundation of your bed is the mattress, and the quality of your sleep largely depends on it. This is why it's crucial to invest in a quality mattress protector to prevent grime and moisture from staining and degrading your mattress, as well as keep potential allergens away. A great choice is our COSMETIC waterproof or TENCEL mattress protector. Its fabric made of natural origin fibers keeps the surface dry and fresh due to its excellent moisture management that, consequently, reduces bacterial growth. It also acts as a natural barrier against dust mites, bacteria and fungi, allergens, and spills from reaching your mattress. The COSMETIC protector is also unique as it naturally restores, maintains, and improves skin. Having a mattress protector not only keeps your mattress clean but also extends its lifespan.
Sheets: The Basics for Style and Comfort
To create a comfortable and aesthetically pleasing bed, you'll need to start with the right sheets. Choose high-quality ones made from natural materials such as Tencel fabric, which is breathable, moisture-wicking, and soft against your skin. Another important thing that often goes unseen is to ensure that the sheets fit your mattress correctly to guarantee a peaceful night's sleep. For a wrinkle-free look and feel, our BSensible NaturZinc waterproof fitted sheets are great since they are stretchable and therefore fit the bed perfectly!
When it comes to choosing bed linens, you can opt for solid colors for an elegant and simple trendy hotel-style look. Plain colors such as nude, lavender, pink, or beige can also contribute to a relaxing and zen-like space, which is great for winding down after a long day. Remember that plain colors don't have to be boring, you can play around with other complementary bedding elements such as pillows and duvet covers to add more glamour and accent to the bed.
Duvets: The Facade of Your Bed
Here's where you have the chance to show off your personal style as this is the most visible layer of your bed. Using a duvet will help create a fluffy, cloudlike bed, and provide you with great comfort through the night as they keep you warmer than just a blanket. Depending on your climate and individual preference, you might use a light or thicker one. Our soft and extremely breathable NATURZINC duvet is available in different weights for different degrees of warmth. Designed with lightweight materials, it gently wraps around your body providing unique comfort as well as keeping your body at a constant temperature.
Don't forget to protect and style your duvet by using the new BSensible NaturZinc duvet cover in your choice of color. Duvet covers are important since they act as the outer layer of protection against body oil, make-up, dust, and any other items that could contact it, just like pillowcases do for your pillows. Not to mention that it helps prolong the life of your duvet and lets you change your bedding style with the seasons or whenever you want a new look. If you want to add more personality to your bed, you can choose a patterned (dots or plaid) duvet cover that unifies colors throughout the set.
Pillows: The Key to Comfort and Health
When it comes to styling a bed, pillows are essential as they add color, volume, dimension, and of course, comfort and support to your neck and spine during sleep. However, not all pillows are created equal, and finding the right one depends on your sleep position and personal preferences (soft, firm, or flat pillow). Make sure to have at least two pillows for each sleeper to ensure maximum versatility. If you want to add more style you can play around with colors, sizes, and textures. If your sheets and duvet have a light color, you can choose bold colors for your NATURZINC waterproof and natural pillowcase such as fuchsia, pistachio, dark blue, or maroon to create a sense of energy and add a bold statement to the bedroom.
For those who care about their beauty sleep, having a COSMETIC memory foam pillow is the best choice due to its waterproof quality and permanent antibacterial activity that helps restore, maintain, and improve the skin. This pillow has excellent resilience thanks to its high elasticity, it incorporates a perforation system that allows air circulation inside the pillow, making it breathable. To maintain optimal health, replace your pillows every 18-24 months, as they can accumulate dust and lose their support over time. Also, the use of pillow protectors is essential for extending a pillow's usability. Make sure to visit our store to explore our variety of pillows, protectors, and pillowcases that come in many different tones! There's really no limit when it comes to pillows, as there are endless combinations to add style to your bed.
Adding the Final Touch: Blankets, Throws, Cushions, and Shams
To enhance the style and coziness of your bed, consider adding blankets and throws. These decorative elements not only make your bed look inviting but also provide extra warmth during colder months. Throws can be draped at the foot of the bed or artfully folded at the end of your duvet for a touch of style. Consider color, texture, and material when choosing blankets and throws. Cozy knit throws are perfect for creating a warm, inviting atmosphere, while lightweight, breathable blankets work well during the summer months. Mixing and matching various textures and colors can add depth and personality to your bed's overall look.
Decorative cushions and shams are the finishing touches for your bed. They can add a pop of color, pattern, and style that complements your bedroom decor. When arranging cushions and shams, consider creating layers by using different sizes and shapes. Start with larger shams against the headboard, followed by standard or king-sized shams, and finish with decorative throw pillows in various shapes and sizes. The key is to coordinate colors and patterns but don't be afraid to experiment with contrasting elements to make your bed uniquely yours.
Health and Hygiene
In addition to style and comfort, it's crucial to address health and hygiene when dressing your bed. Some essential considerations include washing your bed sheets, pillowcases, and duvet covers frequently to maintain a clean and healthy sleeping environment. Be sure to follow care instructions to preserve the quality of the bedding. Periodically fluff and rotate your pillows to maintain their shape and support, this simple practice can prevent neck and back pain. Allow your bed to breathe by opening windows and doors to promote airflow. This helps in preventing moisture buildup, which can lead to mold and allergens. Remember to rotate and flip your mattress to ensure even wear and maintain its comfort and support.
Dressing your bed goes beyond aesthetics; it's a fundamental aspect of your sleep quality and overall well-being. By choosing high-quality sheets, pillows, duvets, protectors, and decorative elements, you can create a comfortable and stylish bed that promotes a restful night's sleep. Moreover, maintaining proper hygiene and investing in mattress, duvet, and pillow protection is essential for your health. So, give your bed the attention it deserves, and it will reward you with nights of unparalleled comfort, health, and style. We invite you to explore our full range of bedding elements and play around at our "Dress up your bed" page to mix and match colors and see which ones combine best with your personality and style!