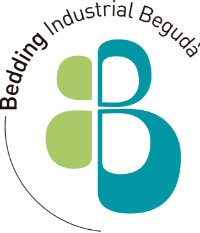 Bedding Industrial Begudà SL is an innovative company that is part of the MITSA group in Spain, specialized in the manufacture of custom fabrics for bedding, among others.
Manufacturing process at Bedding Industrial Begudà SL
Our manufacturing process is completely vertical.
Bedding Industrial Begudà SL starts with spinning the yarn to produce natural fabrics, and then moves to the dyeing and finishing area. Later, the fabric arrives at our lamination area, where the latest generation of polyurethane membranes are applied. waterproof and breathableOur laminated fabrics are then cut and sewn into ready-made products which are packaged and shipped around the world. We are proud to be the only group in Europe with a totally vertical manufacturing process beginning with the fiber and ending with the finished product following strict environmental and social standards and also a total traceability.
We pay special attention to the raw materials we choose in the manufacture of our products as these decisions have a direct impact on our quality of rest and, of course, on the environment.
Can a soft, stretchy fabric really be waterproof? How can a sheet be waterproof and cozy enough for a good night's rest? Under the fabric is where the magic happens! Waterproof, imperceptible, breathable, very elastic and acts as a second skin thanks to Dermofresh® technology
BSensible branded bedding products are designed and manufactured by Bedding Industrial Beguda SL, located around 100 miles northeast of Barcelona, Spain.
At MITSA Group and BIB we put our trust in natural origin fibers as TENCEL™ fibers as well as SMARTCEL™sensitive fibers which help to maintain the environmental balance by being integrated into nature's cycle. These fibers are originated from the renewable material wood and they are biobased certified, manufactured using an environmentally responsible production processes, certified as compostable and biodegradable, and thus can fully revert back to nature. There is no greater inspiration than NATURE and our facilities are surrounded by it. La Garrotxa, an enhancing county, is where we have been growing for 36 years. We invite you to follow this path with us, making your bedroom a sleeping sanctuary.