What is Naturzinc, and what makes it so beneficial?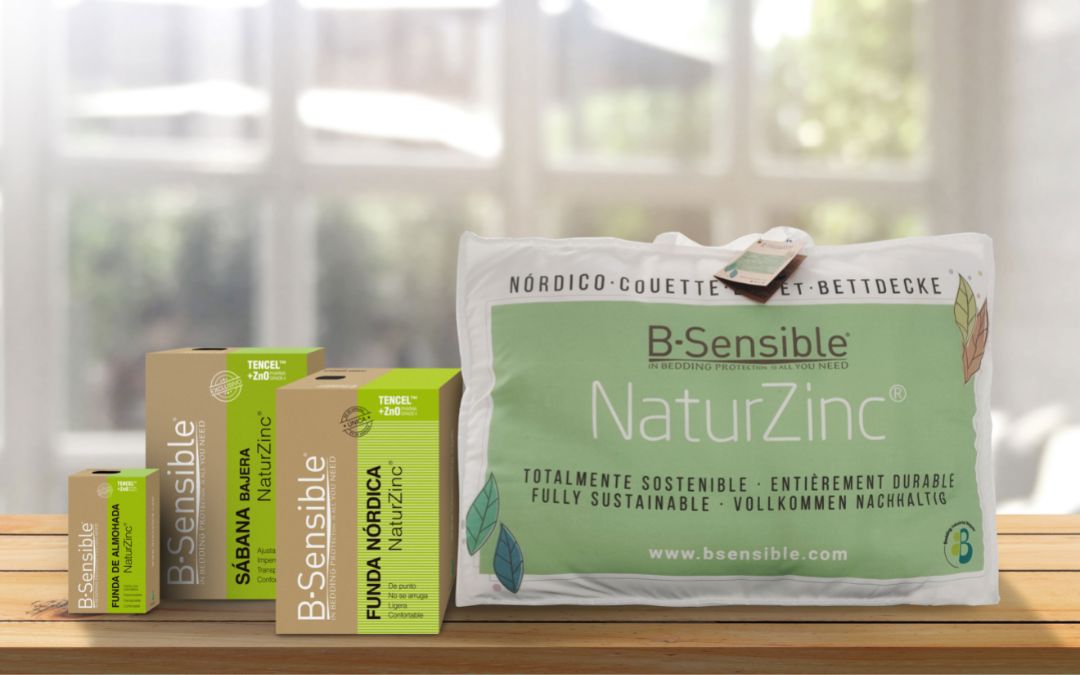 If you've tried the BSensible NaturZinc fitted sheets, pillowcases, or duvets then you know what experiencing pleasant nights means. Perhaps you're now wondering what is it about these products that make them so comfortable for the skin. The key lies in the essential trace element Zinc, which is one of the main components in the manufacture of NaturZinc. All the unique and amazing properties of this material, such as its antibacterial benefits, help make our bedding products gentle on the skin and in turn provide you with a good night's sleep. Keep reading to discover more.
What is NaturZinc?
NaturZinc is an essential mineral with unique properties that help keep the skin healthy and the bedding fresh. One important characteristic of NaturZinc is its antibacterial properties, which make our sheets protect the skin cells and prevent bacterial infections. This is so because it reduces the chance of contaminants infiltrating the mattress and in turn the skin. NaturZinc's properties not only protect the skin but also help regenerate it due to the soothing, anti-aging, and anti-inflammatory properties that come from Zinc Oxide. In addition, NaturZinc's properties enable us to create products that are gentle and hypoallergenic and thus care for you while you sleep.
What is it made of?
As the name suggests, NaturZinc is made from Zinc Oxide. This natural key ingredient is generally used to heal skin and also acts as a protective layer keeping pathogens out. But how is Zinc Oxide created? It is the result of a chemical reaction (when Zinc is heated along with oxygen) that causes zinc to oxidize. Once both the elements have evaporated and condensed into crystals, the result is a fine, white powder known as Zinc Oxide.
The benefits of its ingredients
Zinc Oxide is known for its positive effects, particularly on the skin. That is why this element is used in everyday skincare and cosmetic products such as sunscreen, face cream, deodorants, baby care products, etc. Zinc Oxide helps repair the skin by keeping it moist and clean. It is also antimicrobial, and anti-inflammatory, and can therefore prevent bacterial infection. A study made in 2003, found that zinc oxide decreases the risk of developing a bacterial infection. Zinc Oxide also creates a protective barrier for the skin, helps regulate sebum production, and keeps the skin hydrated. For all of these reasons, this ingredient is key when making Bsensible bedding products that keep your skin and mattress healthy and protected.
The benefits of NaturZinc in bedding
When it comes to health and comfort, our bedding products with NaturZinc® stand out among the rest. This is so because NaturZinc's properties in bedding help keep you, your bed, and your mattress healthy and protected. It allows for permanent antibacterial activity, and reduction of unpleasant odors, and is ideal for people with sensitive skin (babies, eczema sufferers, etc.) and those who suffer from allergies thanks to its excellent dermatological tolerance.
Try the magic of NaturZinc in the Bsensible waterproof fitted sheets, waterproof and natural pillowcases, duvets, and duvet covers.