Simple Ways To Make Your Bedroom Extra Cozy This Winter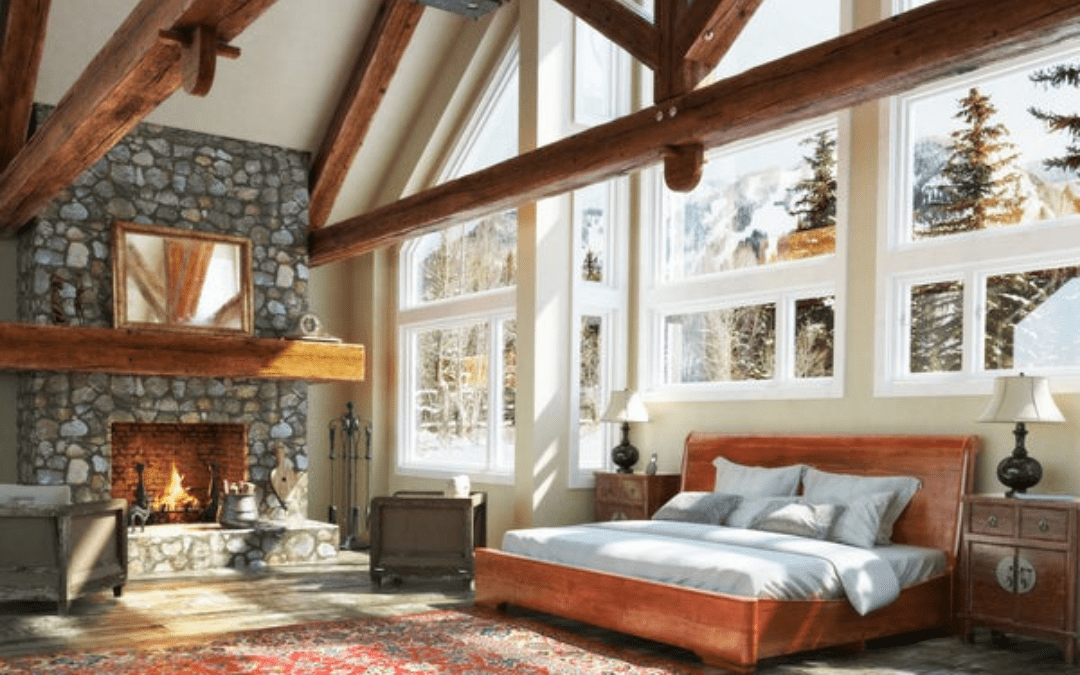 Temperatures are dropping and winter is right around the corner. In the approaching cold, it makes sense to want to cozy up your bedroom to make it a warm oasis away from the chill outside.
The good news is there are plenty of easy ways you can transform your bedroom into a warm and cozy haven this winter season. Here are some of our own favorite ideas.
Change your bedding for the season
Your bed is the biggest piece of furniture in your bedroom. If you're looking to dramatically change the look and feel of your bedroom instantly, one of the best things you can do is to change out your bedding.
Hypoallergenic sheets work great for winter because they help to keep any allergens and dust that may accumulate over the season due to unopened windows from irritating your skin. Consider using a quilt or a thick throw blanket over the end of your bed to boost the cozy aesthetic.
Use faux fur
As mentioned above, a thick throw blanket can do the trick to winterfy your bedroom. By making that throw blanket a faux fur blanket, you'll increase the coziness because of the added texture.
If throw blankets aren't your favorite, faux fur pillows are another great way to add cozy texture to your bedroom this winter.
Bring in some extra rugs
Unless you have heated floors, an unfortunate staple of winter months is the chill of hardwood on your feet as soon as you wake up in the morning.
Fortunately, you can keep this from happening by layering rugs on your floor. Layering is a great way to add texture and coziness to a room in general, but it's especially handy during the winter months when it's coldest.
Deck out your bed with pillows and blankets
Don't forget about your pillows when shopping at your favorite wholesale bed sheets suppliers. Hypoallergenic sheets can keep your skin from getting irritated by household allergens. But your pillows play a big role in your room's coziness, too.
Layer your bed with sheets, blankets, throws, and comfortable pillows from your wholesale bed sheets suppliers. You don't need to use all these layers while you sleep; you might just become a human radiator at night.
Still, decking out your bed in all these layers can make your bedroom feel like a nest. And when you're fighting against those seasonal blues, sometimes a nest is best.
Give your lighting some warmer vibes
Lighting is essential when you're trying to create a certain atmosphere in a room. Cozy up the lighting in your bedroom by using low, soft lighting like bedside lamps.
Low-watt bulbs that are 40 watts or lower are also a great place to start. But be careful the bulbs you choose don't have cool tones. Warm-toned lights will make your bedroom look warm, too.
Have fun with textures in other parts of your room
Your bed might be the focal point of your bedroom, but you don't want to ignore the rest of your space. Have fun with textures in other spots, too.
Trade your lace curtains in for thicker window treatments. Take your throw blankets out of the closet and put them on display on a wooden ladder. Get a faux fur rug and drape it over the back of your desk chair.
These changes in textures will make your bedroom feel like a warm sweater. They also keep the cozy aesthetic running throughout the room instead of stopping at the bed.
Where can I find wholesale bed sheets suppliers near me?
Where can you find wholesale bed sheets suppliers that provide these kinds of bedsheets as well as hypoallergenic and waterproof bedsheets?
Whether you're looking for sheets for babies or adults, wholesale or only one piece, BSensible has the bedsheets you need to give you a great night's sleep. To learn more about our waterproof bed sheets for kids or adults, contact BSensible today.