How to prepare your home for guests this holiday season?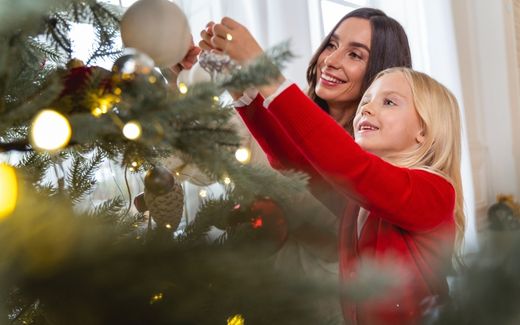 The holiday season is a blink away and to most, that means preparing the house for friends and family. This might be the perfect time to come up with ideas that can give an aesthetic and festive change to the home and light up the atmosphere! However, you might be wondering how to exactly prepare the home for guests and where to begin. Don't worry, below we have prepared a practical list of tips that will make it a piece of cake.
1) Declutter and clean
First and foremost, it is important to start preparing your home by taking away any junk and cleaning out closets. Declutter must be done well especially in the guest rooms and public areas to offer guests a clean and welcoming area. Make sure to remove anything unnecessary. 
2) Make space in the entryway
The first place guests will see when entering your home is the entryway, therefore it's important to make a good first impression. It is a good idea to place a welcome mat at the entrance to protect floors from mud and dirt. Since it's the holidays, perhaps look for something festive to welcome in the mood. 
3) Illuminate and decorate the scene
There is something about the lights during holidays that just makes the room cozy. You can create a warm and inviting atmosphere with some holiday-scented candles. You can also decorate the interior with some cute Christmas lights in areas like the terrace or stairs. A good tip is to add a touch of green with a pretty poinsettia.
4) Prepare the sleeping space
Once the social areas are set, it's time to prepare the guest rooms. Let's not forget that most of them will be traveling, so comfort and hygiene are also important to consider. The best solution is to equip the beds with the BSensible NaturZinc fitted sheets that keep the bed healthy and, at the same time, protect the mattress. Its antibacterial properties inhibit bacterial growth naturally and permanently, therefore you won't have to worry about germs spreading all over the house. 
During this time of the year, it tends to get a bit chilly, therefore it is key to provide your guests with a warm bed. To do so, we recommend using the BSensibleNATURZINC duvet, available in different weights for different degrees of warmth. This lightweight, extremely breathable, duvet regulates temperature naturally and absorbs moisture, keeping your guests' bodies at a constant temperature. Don't forget to cover it with the BSensible NaturZinc duvet cover, perfect to avoid wasting time in fixing those wrinkles when making the bed. This comfy knitted fabric needs no ironing as it is wrinkle-free and its timeless design is perfect for all seasons! Oh, and did we mention they are also waterproof? So, you won't have to worry and food or drink spills from toddlers or adults! 
5) Extra sleeping space
Perhaps there will be last-minute guests attending your house, make sure to have a space in mind where you can locate them. Perhaps in the studio, home office, or living room area. Since they might sleep in inflatable or sofa beds, the best way to make them sleep in comfort is to have some nice pillows and warm blankets. Make sure to protect the pillows with the BSensible NATURZINC waterproof and natural pillowcase. The permanent antibacterial activity is ideal for people suffering from allergies. This will not only provide your guests will a nice sleep but also take care of their health. 
6) Get the kitchen ready!
Living rooms and guest rooms are done! Now let's get to the fun part with the kitchen. This is the command central during the holidays, therefore it must be clean and ready for any extra helpers or hungry guests. For everything to go well, leave it ready so that everything goes smoothly and everyone can enjoy a delicious holiday meal. Make sure to be simple with the meals and ask for help or extra dishes from your guests. This will save time and stress (unless you love to cook). 
The holidays are an exciting time especially if you'll be hosting guests. The important thing is to fill the house with charm and take care of the small details. With the Bsensible fitted sheets, duvets, and pillowcases your guests will be able to enjoy a comfortable bed and in turn, be in the mood to celebrate. If you are having lots of toddlers and children in the house, these products will make it easy to clean after spills as they are waterproof and washable. You can also gift them as useful and practical gifts to young adults living on their own or the just-married couple of the family! Above all, make sure to be safe and enjoy the holidays with love, food, and laughter.