The BSensible® POLARIS surface is made from natural TENCEL™ Lyocell fibre (with excellent moisture control), SMARTCEL™ sensitive (contributes to the acceleration of skin cell regeneration and has important antibacterial properties) and HDPE (technology based on high thermal conductivity and heat dissipation) fibres.
From nature to your bed
Currently, so-called cooling fabrics are based on PCM (Phase Change Material ) technology. In simple terms, when a material changes its phase, for example from solid to liquid, it absorbs energy and heat, giving a cooling sensation.
Using this system, as shown by the comparison, the cooling effect lasts for less time than with the BSensible® POLARIS range.
BSensible® POLARIS has a cooling effect, owing to its technology based on thermal conductivity and heat dissipation. It is combined with the excellent moisture control of TENCEL™ Lyocell. An obvious example is metal: if you put our hand on a metallic chair leg you immediately experience a cooling sensation because metal is a conductor (it absorbs the heat from your hand, transports it and dissipates it).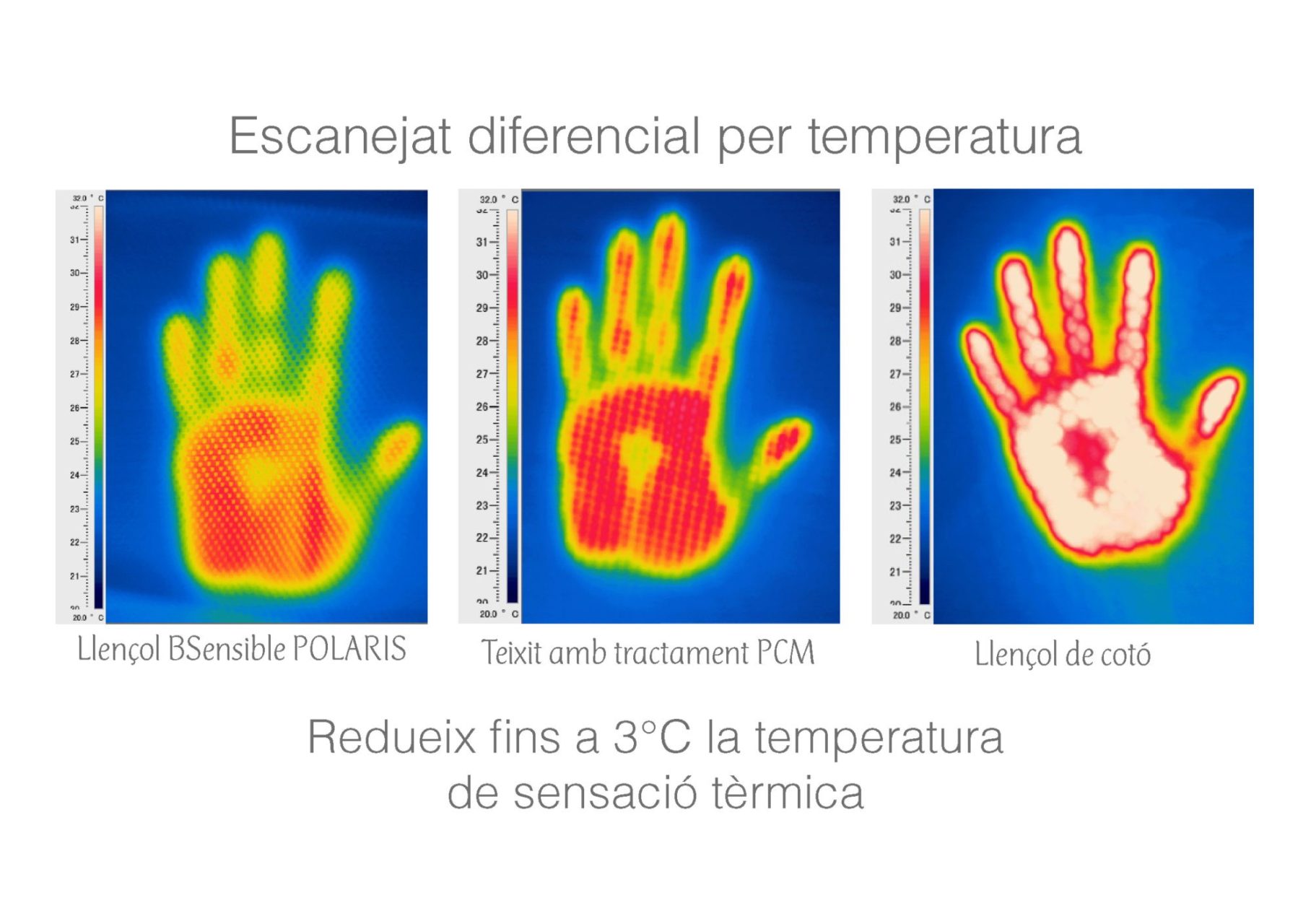 BSensible® POLARIS provides a naturally fresh skin-friendly product, which gently envelops your body and improves your sleep. It has excellent moisture absorption which prevents bacterial growth; resulting in a reduction in unpleasant odours. The ideal product for people who tend to feel hot.
Botanic origins

TENCEL™ fibres with their botanic origins are defining a new level of sustainability and natural comfort for bedding. Owing to the closed production system, the wood pulp is made into cellulose fibre with minimal environmental impact. In the spinning process, the process water is recycled and over 99% of the organic solvents are reused. This system was awarded the European Business Award for the Environment from the European Union.
From wood to fibre

TENCEL™ is the Lyocell fibre made exclusively by LENZING AG. The fibres are naturally soft to the touch and offer comfort for sensitive skin.
TENCEL™ Lyocell is made from wood obtained from certified and controlled sources. The fibre production methods are extremely eco-friendly owing to the closed production system: a spinning process using organic solvents in which the water used is recycled and the percentage of reused solvents exceeds 99%.
Softer than silk

TENCEL™Lyocell fabrics provide natural soft-touch comfort, ideal for sensitive skin.
Excellent moisture control

TENCEL™Lyocell has excellent moisture absorption and helps regulate body temperature, keeping your skin cool and dry during the night. What's more, it provides an unfavourable environment for bacterial growth, boosting the hygiene properties of the fabric.