Revamp Your Bedding and Add a Splash of Color: Why Spring is the Perfect Time for a Bedroom Transition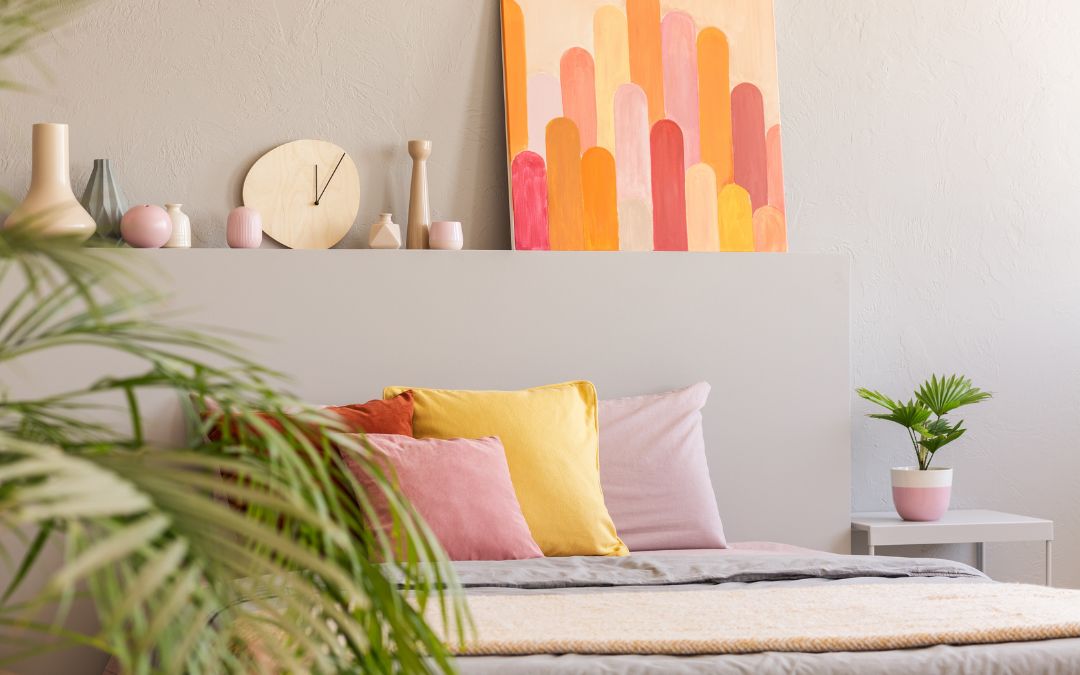 Spring is here and it calls for renewal. Everything around us begins, once again, to bloom with life and as the outdoors transitions into warmer days, we feel ready to shed some layers. The change of season invites us to refresh and re-organize our homes and lives for the rest of the year. So, what better time to revamp your room and bedding than now? Here are some ideas to help your bedroom transition into the new season.
1- Switch to more colorful tones
Spring's color palette is full of warm, fun, and bright shades. So, if you are looking to revamp your bedroom, choose warm colors as they make you feel energized and happy, for example:
• Pistachio: Choose the pistachio tone if you want your bedsheets to be a focal point in your bedroom. This warm shade, symbolizing spring, promotes serenity and relaxation while lightening the space. It is ideal for interior decoration as it plays perfectly in harmony with other tones and is suitable for most bedroom styles. This gentle green shade has a positive, calming, and relaxing effect.
• Fuchsia: Adding a color like fuchsia can instantly lighten up an entire room and release any sense of boredom related to the past cold season. Just like the flower it originated from, this color is vibrant, cheerful, refreshing, and energizing. Perfect to bring new energy into your bedroom.
• Blue Breeze: Blue tones are considered calming and also help relax and get a good night's sleep. The calming effect that the blue breeze shade can have on your mood makes it the perfect choice for a bedroom. As you start to feel like the sun is shining outside once again, your bed will match the same vibration with this bedsheet color.
These are just a few of the multiple colors you can choose from! Your personality no longer has to be represented by a limited number of hues. BSensible offers a plethora of color options to fit every mood, style, and interior design preference, just try our color combinations selector: to experience all our new tones and start this spring with the bedroom of your dreams.
2- Bring in the new
No matter what season you are in, regularity of cleanliness is key to a healthy and happy life. A new season is a perfect excuse for brand-new clothes for you and your bed! Put away those old and boring winter sheets and enjoy the springtime by sleeping on fresh and clean sheets. Try switching to BSensible NaturZinc fitted sheets, these waterproof sheets come in a variety of colors, so you don't have to sacrifice style instead of comfort.
3- Put away the heavy layers
Spring is all about shedding old layers. Take this period as an opportunity to declutter your bedroom space and put away all the heavy layers that kept you warm last season such as comforters, throws, and other winter gear. This is the time to feel lighter, and your bedding should too. Try the BSensible NaturZinc duvet cover, its timeless design is perfect for all seasons! You can now enjoy the weather and sleep in a fresh, naturally antibacterial, comfy knitted, very light, and silky soft duvet cover. Now you can also mix and match your new BSensible duvet with any color of your choice!
As we welcome this colorful season of renewal, take this time to revamp your bedroom with all the variety of colors our bedsheets, pillows, and duvets provided. This spring, make sure to give your bedroom a more vibrant look!